Building and Assembly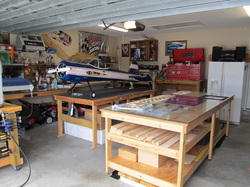 Currently, my shop is a 20' x 20' garage offering one 4' x 8' assembly table and one 4' x 10' building table topped with 3/8" glass, flat to.010". Various other tables are for sub-component design, small parts construction, and assembly.
RC aircraft from the most basic to 40% aerobatic to complex jets can be built or assembled incorporating as many custom parts as is needed. Custom wiring solutions for your airplane including heat shrink wire labels are available for JR, FUTABA, Multiplex, and ASH-LOK connectors.
Use the "Contact Us" page to request a price quote to build or assemble your aircraft or call the listed telephone number to discuss your build.
---
Laser Cutting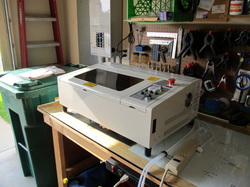 A recent addition is our Full Spectrum Laser 40W CO2 Deluxe Hobby Laser. It has a usable bed size of 9.5" x 14.5". Cuts up to !/4" plywood, acrylic, and thin G10 along with metal etching can be made utilizing file formats .dwg and .dxf.
This size cutter works great to produce the small sub-components designed into the aircraft and speeds up assembly over hand cutting. Of course, some parts still require cutting by hand such as thicker G10 and Carbon Fiber.
Quotes available for Complete Project or Stand-alone Parts cut from your .dwg or .dxf files.
---
CAD Design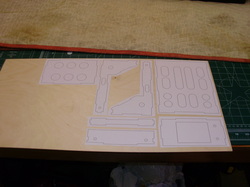 I have found that even when hand cutting a 2D CAD program proved invaluable in the design of sub-components. I utilize a few 2D CAD programs during the design of parts and with the addition of the laser cutter can turn thoughts into reality in about half the time of hand cutting.
SPA
offers a service to turn your thoughts into a .dwg or .dxf file for laser cutting on our machine or by your preferred laser cutter.
If you have a small part idea that would benefit by from the conversion into CAD, please contact me and we can discuss options about turning your part into reality.
---
More Services Coming Soon!